Description
| | |
| --- | --- |
| Model No | CERBO-S GX |
| Description | System Communication Centre for Battery Monitoring & Control – Lower Spec Model |
| Original Brand | Victron Energy BPP900450120 |
| Width | 143mm |
| Height | 48mm |
| Length/Breadth/Depth | 78mm |
| Weight | 420g |
Cerbo-S GX BPP900450120
The Cerbo-S GX is the lower spec & lower priced version of the hugely popular Cerbo GX.
The difference is the removal of the BMS Can, Tank and Temperature inputs (which have been blocked off with grommets – see image below)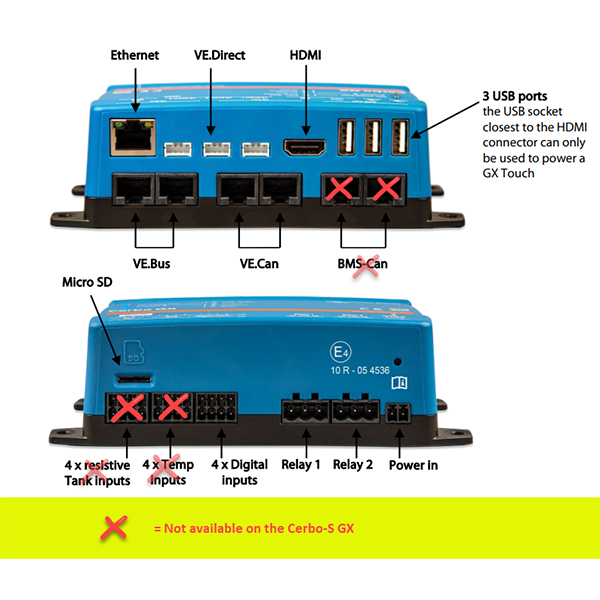 This communication-centre allows you to always have perfect control over your system from wherever you are and to maximise its performance. Simply access your system via our Victron Remote Management (VRM) portal, or access it directly, using the optional GX Touch screen, a Multi-Functional Display (MFD) or our VictronConnect app thanks to its Bluetooth capability.
Watch the new video below that explains all there is to know about installing the new Cerbo GX & GX Touch 50.
Remote Console on VRM
Monitor, control and configure the Cerbo GX remotely, over the internet. Just like if you were standing in front of the device, using Remote Console. The same functionality is also available on the local network LAN, or using the WiFi Access Point of the Cerbo GX.
Perfect monitoring & control
Instantly monitor the battery state of charge, power consumption, power harvest from PV, generator, and mains, or check tank levels and temperature measurements. Easily control the shore power input current limit, (auto)start/stop generator(s) or change any setting to optimise the system. Follow up on alerts, perform diagnostic checks and resolve complications remotely.
Maximise your system performance
The Cerbo-S GX maximises the performance of your systems components in real-time and keeps them in perfect tune. With its Dual Core Processor you can now support even bigger systems; closely follow managed (lithium) batteries while the second port can support up to 25 simultaneously connected VE.Can solar chargers. The new NMEA 2000-out support has the GX easily integrated into any boats network. 3 VE.Direct ports, 3 USB ports, 4 digital inputs and 2 relays allow you to expand control to a new level. Maximising systems performance was never this easy.
Expand your view
The new (optional) GX Touch 50 & GX Touch 70 displays allows you to have an instant overview of your system and adjust settings in the blink of an eye. Its super slim 5 or 7 inch waterproof design, top-mountable setup and its simple installation bring a lot of flexibility when creating a crisp and clean dashboard.
Simple mounting and configuration
The Cerbo GX is easily mountable and can also be mounted on a DIN-Rail using the DIN35 adapter small, (not included). Its separate touchscreen can be bolted on a dashboard, eliminating the need to create perfect cutouts (like with the Color Control GX). Connection is easy via just one cable, taking away the hassle of having to bring many wires to the dashboard. The Bluetooth feature enables a quick connection and configuration via our VictronConnect app.
Outsmart any power challenge
The Cerbo GX serves endless purposes, extending perfect control to the most diverse applications. For solutions including generators, such as Marine, or Backup & Off-grid, it will auto-start/stop your generator, or delays ignition until the end of 'quiet' periods. For Energy Storage Systems it keeps backup batteries at 100%, kicks-in during power-cuts and diverts excess (solar) power to self-consumption, saving you money. For RV and Emergency vehicles it keeps vital systems function flawlessly. But that's just to name a few…
 Optional Touch Screen GUI's (*sold separately)

 Click here for 5 inch GX Touch 50 Screen
 
 Click here for 7 inch GX Touch 70 Screen
This Victron Energy GX Series product is compatible with many Marine Glass Bridge systems.
A Glass Bridge is a MFD (Multi-Functional Display) that integrates a boat's systems and navigation status into a large screen or screens at the helm of the vessel, so doing away with multiple gauges, brackets and wiring complications.

The Victron Marine MFD GX integration enables you to easily connect a compatible Multi Functional Display to any Victron GX model at the heart of your power system. Once connected you can easily monitor and control your boat's power system, direct from your Glass Bridge.

Click Here to read the Victron Energy Integration Instructions
For more information regarding the
CERBO-S GX
please contact us via any of the methods
available here
or message us on
social media
and we'll be happy to assist!